Quarantine and social distancing did not prevent Brazilian team members from celebrating the 70th anniversary of the arrival of END in the country, with great joy.
With a lot of creativity, the Brazil Super Region planned an extensive program that delighted and brought together all the couples and Spiritual Counsellors for this period.
On 13 th May, we held a virtual Eucharistic celebration presided by the Priest Spiritual Counsellor of the Brazil Super Region, Dom Moacir Arantes. The Responsible Couple of the Super Region, Lu and Nelson, were also present. With more than 15 000 views, it was a remarkable time of celebration, not only in terms of words and messages, but also as a clear demonstration of the significant cohesion of the Teams community.
The next day, we gathered in a LIVE conducted by Lu and Nelson, with the five couples who have led the movement in Brazil over the past 25 years. Testimonies rich in challenges and achievements, allowed us to relive the beautiful path of expansion and maturation of Teams in Brazil. The big surprise of the night was the participation of the Responsible Couple for the ERI, Clarita and Edgardo, who read a loving message to all Brazilian Team members, finishing with a blessing from Dom Moacir.
Finally, on Saturday 16 th May, we made a virtual pilgrimage to Aparecida, beginning with the prayer of the rosary, in which couples and priests from all over Brazil participated. This was followed by Mass from the sanctuary. It was a time to give thanks to God for His gifts and for so many blessings granted to the movement and to us, as Team members. Everything was and continues to be possible, thanks to the loving presence of God who, with the light of the Holy Spirit, has enlightened all those who have generously led the movement during all these years.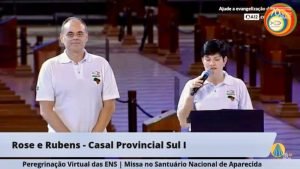 They have worked tirelessly so the movement could be strengthened and expanded in an organized and creative manner, faithful to the teachings and orientations they have received. They have sought unity in our movement to become true apostles for the various couples and their families, as well as the dear priests, deacons, men and women religious who have joined the END movement.
God be praised for the 70 years of the movement in Brazil!
Super Region Brazil