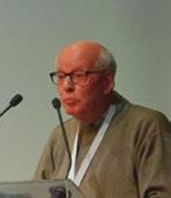 Dear family of the Teams of Our Lady:
Today is a sad day for the Super Region France and for the Movement of the Teams of Our Lady throughout the world. A marvellous man has died, a captive of God as he said of Father Caffarel, an example of faith, of fidelity to God and to the thought of Father Caffarel, with an overflowing ardour in his heart with which he transmitted his great enthusiasm to us.
We are very grateful to God for him and today we come together in a prayer of gratitude for his life and for his Easter.
We express our sincere condolences on behalf of the ERI to Anne-Mathilde, Marie and Luc, his children, to the members of the Association of Friends of Father Caffarel, to the Super Region France Luxembourg Switzerland, to the movement of the Teams of Our Lady and to all the friends who, like us, had the privilege of knowing him and sharing with him very special moments that remain forever marked in our memory.
May God welcome him in his glory.
Clarita et Edgardo BERNAL, Couple Responsable International, Équipe Responsable International