8 couples from all over the world and 1 Spiritual Counselor make the Team that serves all couples worldwide
---
---
---
---
Liaison couple for the Eurafrican Zone
Today, the Eurafrica Zone is made up of the following 4 Super-Regions: Italy SR, Portugal SR, Spain SR, and French-speaking Africa SR.
This composition enables the large and old Super-Regions (Italy, Portugal and Spain) to help the new Super-Regions, like the French-speaking Africa SR (16 African countries) and the Portuguese-speaking Africa SR (5 African countries), who received the good news of the Gospel more recently, to grow in faith and love.
The mission of the Zone's Liaison Couple in this context is to encourage and stimulate mutual aid within the Zone, via meetings, exchanges, formation and material and financial support
Contact Bernadette & Sylvestre
---
Liaison couple for the American Zone
We are Marcia and Paulo, from Brazil. We have 46 years of marriage and 44 years in the Teams of Our Lady.
We believe that God's call will not be made to us once in a lifetime. He calls us again and again. This time His call was to make the liaison of the America Zone; RR Canada, SR United States, SR Hispano North America, SR Colombia, SR Hispano South America and SR Brazil. As in other occasions, we are surprised by His look at us.
Following the Pope's request, we thought of an America Zone always capable of welcoming the new, of daring, of trusting in the Holy Spirit.
The experience lived in the Teams of Our Lady, the method proposed and the mutual help us to understand the will of God and to live it. Our mission is to be an instrument of Christ's project.
May the America Zone be a single family living in fraternity, loving God in love of neighbour and the Movement in fidelity to his charism and mysticism.
---
Couple responsible for Communication
Communication has taken centre stage in the modern world! And Teams of Our Lady, as a Church movement that accompanies the world, must also give their whole attention to communication and make available to all the tools that will enable the spreading of the spirit and charisma of Teams of Our Lady to everyone and in every manner.
---
Couple responsible for the Satellite Teams
The Church calls on Teams of Our Lady to go out on mission. Our work in the coordination of the Satellite Teams will be to contribute to the demands of reflection on the Movement's future, in view of the challenges proposed to Teams of Our Lady at the Fatima Gathering, seeking to distinguish the immutable elements of vocation and mission linked to its founding charism, from those which give it the freedom to respond to the challenges of our time, and all the while placing its pedagogy at the service of the Church in the different realms of marriage and the family.
---
Couple Responsible for the Secretariat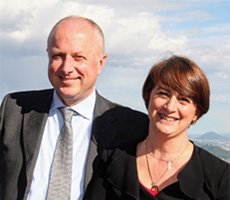 The Christian couple is a communion at the service and in mission: it lives love to give love. The two of us are called upon to give a service " at the service ", as the role of International Secretaries is to support and accompany in the organizational practice those who take care of the teams of the entire world. In joyful fraternity we are members of the International Responsible Team, listening to and assisting the other couples on a common journey.
---
Secretary