As the International Leading Couple for the Teams of Our Lady, you announced at the most recent International College at Swanwick that the 12th International Gathering of Team members would be held in Fatima, Portugal, from July 16th to 21st, 2018.
Can you give us the reasons for choosing this place?
Fatima was chosen by the Regional Responsible Couples who took part in the International Regional Responsible Couples' Gathering in Rome in 2015.  The International Leading Team consulted all the responsible couples present and the Sanctuary of Fatima was chosen with a majority of over 60%.
What role do the International Gatherings play in the life of the Movement?
They are important moments when the international aspect of the Movement can be experienced as a whole and when the new orientations of the Movement as defined by the ERI (International Leading Team) every six years can be announced.
These orientations are proposals that aim to help the Teams of Our Lady to truly journey together in unity.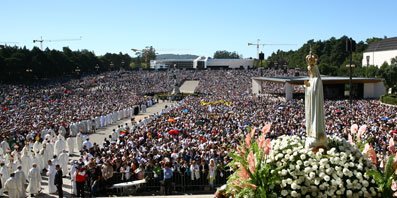 Father Henri Caffarel associated big gatherings with pilgrimages.  What do you think of that?
We completely agree with his vision.
To be able to participate in a big Gathering is an opportunity that enables us to nurture and develop the deepest sense of what a pilgrimage is, primarily for couples and then afterwards within the Movement, because it is terribly important to take care of the person who walks at our side.
Will this next Gathering will have a theme and if so, what is it?  Can you give us some key words that summarise it?
There will, of course, be a theme.  The ERI (International Leading Team) always uses the Gospel as its starting point and from there tries to respond to the current concerns of the Church and the world.
Pope Francis reminded us that Teams couples are called, more than ever, to the mission; but according to our particular charisma and our vocation of love.
Therefore, our great concern will be to figure out the role of a true Mission of Love, full of mercy and joy, just like the one we are in particular need of today.