The International Leading Team (ERI) went to Lebanon for a few days, for a meeting that combined work and pleasure.  The idea was to meet the Teams of the Lebanon Region mainly, but also the other Sectors and Regions that make up the Teams Movement in the Middle East, in order to discover how they work, what their difficulties and aspirations are.  However, since it was also an ERI meeting, other elements had to be dealt with too, like the preparation of the upcoming College that will take place in Valencia, this July.
The ERI stayed in the Notre Dame du Mont house near Beirut, from April 9th to April 14th.  The first morning of our meeting, we had a fun activity: learning to write our names in Arabic.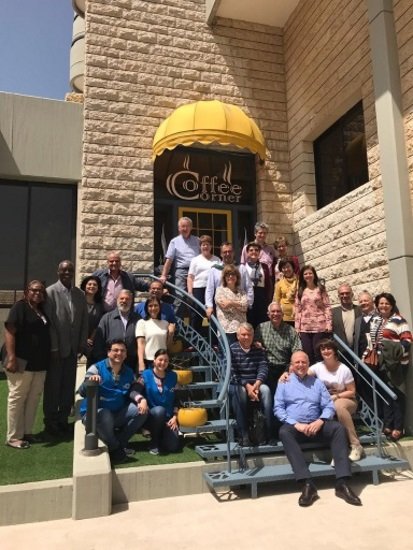 Throughout our days there, the couples from the Lebanon Region were always available, helpful and discreet, ensuring everyone's wellness and the ERI is very grateful, especially to Josette & Fadi, the Regional Responsible Couple, for their tireless work.
As well as working intensely, three cultural visits were organised: Byblos (one of the oldest Phoenician cities that has the oldest port in the world), the Harissa Sanctuary (where the beautiful image of Our Lady of Lebanon is to be found) and the Episcopal palace where Bechara Boutros al-Rahi, Cardinal Patriarch of Antioch extended hospitality to all the ERI couples and their Spiritual Counsellor. A few Lebanese couples also attended with their Regional Spiritual Counsellor, Father Moubarac.  His Beatitude addressed some very important words to the Team members present, that are equally important for everyone else to hear, namely that Teams are important in helping structure families and they are fundamental not only for society but also for the Church.
There were numerous moments of prayer throughout the week, like the Way of the Cross or the Palm Sunday mass that we attended with other couples from the Region.
Saturday was a memorable day, full of friendship, encounters, multiple experiences and training sessions.  Teams from Lebanon, Jordan, Qatar, Dubai, Syria and the United Arab Emirates were all present.  Training, reflection, prayer, sharing and leisure time marked the day, while a party with games and dances in a fun atmosphere marked the evening!
The ERI team was strengthen by this week of encounters and believe that the couples who belong to Teams of Our Lady in the Middle East also benefitted from this opportunity of true mutual aid between the different couples.
Our heartfelt thanks to the Lebanese Teams!